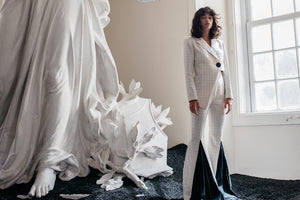 scroll right
































About the Collection
Passionate FW/18 is a love story. The primal human desire and inspiration for countless artists. Exploring the symbolism and language that have become associated with love, "Passionate" focuses on l'amour, and how the conception of couples has morphed and evolved through out time and space.
This collection is a personal reflection of all the aspects and phases involved in romantic relationships. A culmination of references from Lana Del Rey's tragic romance and melancholia songs; "Love" (2015) movie from Gaspar Noé; to old photos of couples through out the years; Eartha's Kitt interview on love and compromise, brought to life this Fall/Winter collection.
A sense of formality, sobriety and femininity is present in the collection, accompanied of a neutral color palette corrupted by bold tones of red and Fuchsia. The silhouette is fitted in the waist, drapped and elongated, combined with raw finishes, in a contrasting twist of classical and modern love.