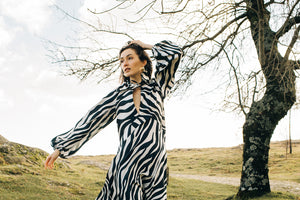 scroll right















About the Collection
When does the pandemic end?
And what will we dress until then?
It's in this strange uncertainty, the inability to predict what comes next, that Carolina Machado develops her fall/winter 2021/22 collection. Between another lockdown and a future and gradual lift, paying attention to the current needs, it's where Carolina finds the perfect balance between comfort and elegance, to wear inside and outside. The sober palette of neutral colors enhances this versatility and purpose of occasions, accompanied by a minimal and fluid silhouette, with notes of pleats and ruffles.